One-Stop-Shop for Live Marketing Solutions
____________________________________________
Digital customer experience for higher
interaction and long-lasting engagement
Consulting
Together with you, we develop
target-group-specific, digital approaches for your strategic message.
We know the right targets and KPIs to make the sustainable success of your concept measurable.
Events
We plan and implement events.
Precisely fitting and scalable.
Gamified, dialog-oriented and with real passion.
We are professionals for trade fairs, customer events, internal employee events.
Implementation
You already have an idea?
We are an experienced partner for the optimal placement of content.
With us, you get planning, production and distribution from a single source.
Online, offline or hybrid - and always simple and scalable.
Dialogue-oriented products
With us, you receive customised dialogue-oriented solutions that integrate your customers as early as the development stage.
In this way, company-relevant topics become individually playable. The focus is always on the best possible use of digital and data-oriented solutions.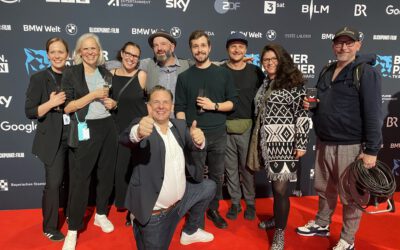 2022, the Bavarian Television Award will be rebranded as the "Blue Panther - TV & Streaming Award. From now on, it will take into account not only...
read more
Force of Disruption 
We are experts in digital transformation.
For brands, fans, trade fairs and educational institutes, we drive 
digitisation initiatives actively and in a value-creating way.
"Force of Disruption is energy, charisma and passion all rolled into one. Their team lights up every room they walk into and it's impossible not to fall in love with whatever they are sharing or promoting. I love sharing the stage with their CEO Marcus and hope we can collaborate for decades to come!"
"Marcus, CEO of the Force of Disruption, is an extremely go-getting character head! Always the goal in mind, yet up for any fun. The collaboration with him and his team is always characterised by trust, looking forward to more projects!"
"Working with the Force of Disruption is the maximum energy booster! And add to that a lot of inventiveness, super attitude for maximum teamwork and jointly designed processes plus lots of helper syndrome when I couldn't quite understand their world (yet!)! 1000 thanks for many great pushes and implementations!"
"If you're looking for someone to create ideas, drive innovation, develop future-proof business models or discuss current market movements, you'll find a perfect contact and visionary in the Force of Disruption, with the skills and contacts to make things happen."
"Force of Disruption is the kind of team with which you can develop new value-creating solutions in a very short time! I have found them to be very passionate and really enjoy working together on the IAA! I am already looking forward to more exciting projects. More to come!"
"Through many innovative activations from Force of Disruption GmbH, we were able to raise the German eSports scene to a new level with our joint events and productions! The services were always carried out very reliably and with high quality. Always happy to do it again!"
"Marcus Meyer is a visionary with absolute doer qualities. With vision and pragmatic at the same time. Our professional paths have crossed for over 10 years and working with him has always been extremely professional and energetic. It is great fun to develop ideas with him. I hold him in high esteem, both professionally and as a person.
I can recommend him and his team at the Force of Disruption for concept developments and as experts for the implementation of digitalisation projects at any time. It is also a celebration to invite him as an eSports evangelist."
"Marcus Meyer - what can you say? He's a real networking machine. The other day I was talking to a mutual acquaintance who said, "If you need an appointment with the Queen, ask Marcus and you'll have an intro with her a few days later."" Marcus Meyer sees opportunities and is an absolute doer. Appreciative and challenging at the same time when working together - always with the goal of becoming better together. Whoever works with Marcus has the chance to grow personally."